Filter Content
2019 Term 4 Week 7

Welcome to Week 7 everyone
As we wonder what we need to buy for Christmas shopping and who we need to get that special gift for, it's a good time to remember a quote from Mother Theresa -
"If you want to bring happiness to the whole world, go home and love your family."
I think this is a Christmas present worth giving and worth receiving. It is something that I see the children from SJV benefit from on a daily basis.
SJV Parish BBQ
As mentioned in last week's newsletter, this will be the first time since our parish amalgamated that SJV has had the opportunity to host the Parish Christmas BBQ. It is a great event- a free BBQ, wine and soft drinks catered for. Please bring a salad or a desert and come and support your parish. A great way to be part of community and an opportuntity for Fr Michael to thank all Parishioners for their support through the year.
A sign-up sheet is in our school front foyer or you can RSVP by using the sign-up sheets at the back of both parish churches.
Ginger Bread House
If you look on Facebook, you will see evidence of a wonderful community night with plenty of smiles, icing, lollies and happy families. A big thank-you to Bec Battaligni who organised all the fun.
Canteen News
I am pleased to announce that Karen Wilder is happy to help in the canteen as a volunteer and coordinate all our other volunteers in 2020. We will be fare welling Trish McDonald at our Carols Night on Wednesday 18th December. We will however, be seeing Trish in 2020 in the canteen, as she has already told me that she is very keen to work as a volunteer.
Year 6 Graduation and Candle Ceremony
A reminder that Year 6 Graduation Mass will be held on 12th December at 12:15pm in the St John Vianney's church, including the Candle Ceremony for the Year 5 students recieving the light of Leadereship for 2020.
Working Bee – This Sunday 1st December 9am-12 noon
Just a reminder that our final School Working Bee will be this Sunday. There will be child minding for the students, a movie and Christmas craft with some extra goodies for Santa's sack. Come along for an hour or so and make a difference.
School Christmas Carols – School Hall 18th December
Carols were advertised to be on our playground area but we have had an urgent request from Mrs Mullamphy to repeat our procedure from last year. This will help Mary organise the children into one large group so they can present their carols and make hearing and seeing the children that much easier.
Therefore, bring a blanket and an appetite for a sausage sizzle as we celebrate with festive songs in the hall. The time will be 5:30-7pm on Wednesday 18th December.
Semester Awards
Our semester awards will be held in the hall on Friday 13th December at 9:30am, directly after our morning assembly. Come along and celebrate our student's successes for this semester.
Have a great week.


Peter Rodda
Principal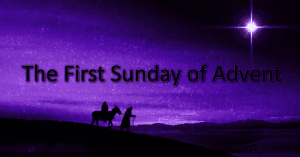 With Sharee Thomas
This Sunday is the first Sunday of Advent, which is also the first Sunday of a new liturgical year for the Church. The Advent season includes the four Sundays that precede Christmas. It is a time of preparation for the coming of the Lord. In this season, we recall two central elements of our faith: the final coming of the Lord in glory and the incarnation of the Lord in the birth of Jesus. Key themes of the Advent season are watchful waiting, preparation, and justice.
In this new liturgical year, the Gospel of Matthew will be the primary Gospel proclaimed (Lectionary Cycle A). In Sunday's Gospel, we hear Jesus speak about the need for wakefulness, for watchful waiting, for the coming of the Son of Man. No one knows the precise time of the coming of the Lord in glory, so watchful waiting and vigilance are required. The passage speaks to the uselessness of looking for signs; there will be none. As a thief sneaks in during the night, so will the Lord's coming in glory be.
Many of us feel the pressure early in the holiday season to be ready for Christmas. But this Gospel challenges us to be ready for something other than the gift-giving of Christmas.
As a family, talk about what it means to be ready for the day of the Lord. One of the roles of the family, the domestic church, is to be a school of faith leading one another to salvation. Reflect together as a family on how your family helps one another to be better Christians. Commit to one thing that your family will do this Advent season to help one another be better Christians.
Vinnies Christmas Appeal
A reminder that we are collecting a variety of items for those less fortuntate than oursleves in our community.
Kinder: Confectionary (lollies, chocolate, potato chips, biscuits. NO NUTS)
Year 1/2: Beverages (tea, coffee, milo, hot chocolate, juice, soft drink)
Year 3/4: Christmas Foods (Christmas cake, pudding, mice pies, boxed pavlova's, shortbread etc.)
Year 5/6: Christmas items (Bon bons, decorations, wrapping paper, gift bags, Christmas stockings etc.)
We appreciate anything that you can give. Gifts can be placed under the Chirstmas tree in the front foyer.
Have a great week!
School Wide Positive Behaviours
This weeks focus for our SJV students is
Move quickly and quietly at bell time
Our wonderful children enjoying the Thursday afternoon Touch Football Competition the K1 vs Year 2
Santa and Mrs Claus Raffle
We have two beautiful hand knitted Christmas decorations.
The Merry couple stand about 40cm high and would be a great decoration for the festive season or as a lovely gift for a family member.
Tickets are available at the front office for 50c each or 3 for a $1.
The raffle will be drawn in week 10 and all proceeds go towards Ayui Foundation
Thank you
We acknowledge all parents who are coaching and managing our kids through summer sports.
Community Champion Nomination Form
All Library Books due in Week 8
With the end of the school year rapidly approaching, students and families are reminded that all library books need to be returned in week 8. This allows time to chase up overdue or missing loans and run a stock take of all books.
If you have any concerns about library loans, please contact me:
samantha.heath@cg.catholic.edu.au
Final Scholastic Book Club for the year - Issue 8
The last Scholastic Book Club of the year is going home at the end of this week, it has a fantastic selection of Christmas gift ideas! Please ensure you select the 'gift' option if you wish to be contacted to collect your order.
All book club orders need to be submitted by close of business, Monday 2nd December (week 8) to allow enough time for the books to arrive before the end of term. Please note, no late orders will be accepted.
Issue 8 can be found through this link:
https://www.scholastic.com.au/media/5384/bc819.pdf
Thank you very much to everyone who has purchased books through the Scholastic Book Club this year. Your purchases have raised enough points to buy over $500.00 worth of new books for the SJV Library. These new books are very popular as the students help select them from the catalogue.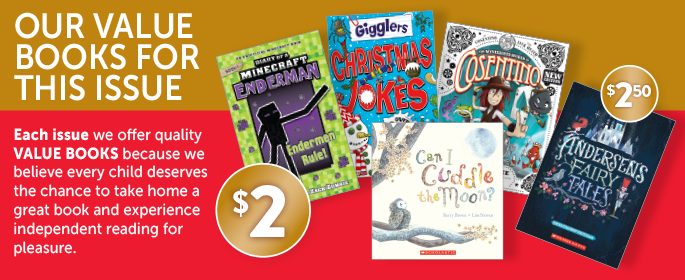 ELC Christmas Concerts – Week 9.
Turtles and Stingrays will be performing on Tuesday 10th December at 9:30am. Turtles and Lobsters will be performing on Thursday 12th December at 2pm. Costume information has be sent via class email.
Mango Orders – If you ordered a tray of mangoes through our fundraiser, we are expecting delivery next week. Keep an eye on SZapp for a delivery notification.
Lost property – Please take the time to check the lost property basket located under the sign-in desk. All unclaimed items will be donated to charity at the end of the year.
St Vincent de Paul Christmas Appeal – If you are able to donate non-perishable food items, please leave your contributions under the Christmas tree in the front foyer before 10 December. If you have any spare boxes that could be used to pack items in, it would also be greatly appreciated.
Last Day of Term - The last day of Term 4 is Thursday 19 December. The ELC will be running one day of holiday care for current ELC children on Friday 20 December. Booking forms will be available under the notes section of the school website.
ELC Fees – As we are approaching the end of the year, prompt payment of fees would be appreciated. It is important that you check your account balance to ensure you are paying the correct amount. Please remember to cancel any automatic payments to ensure that you do not overpay your account as it may not be possible to process refunds before February.
Christmas Eve Children & Family Mass

For many years the Christmas Eve vigil Mass at St John Vianney's has been a family-centred celebration of the birth of Jesus. A highlight is the re-enactment of the Nativity story, presented by the school children. Extended families and visitors have come to the Mass for its significance but also because the children are involved in this wonderful part of the life of the Church.
Father Michael invites parents and grandparents who would like to be part of this tradition to help to organise and rehearse the children for this year's Mass. There's a guide for how the re-enactment has been organised in past years, and room for any new ideas you may have after discussion with the parish office and Father Michael.
Without your support for your children this Mass just won't happen. If you'd like to become involved, please contact the school or the parish office 8331 7611
Cathy Schneider & Marianne Forshaw
The Parish Christmas Party, Friday 6 December 2019 commencing at 6pm in the grounds of St John Vianney School, Waramanga. ALL PARISHIONERS are invited to come along to what has proved to be a wonderful evening in past years. It is meant for the whole parish. This Christmas Party is also a special occasion for Fr Michael to thank, both in person and publicly, all parishioners for their generous involvement, support and work in the many areas of parish family life. If you would like to attend and haven't RSVP'd bring along a salad or dessert to share. There is always plenty to share. As our parish footprint has expanded and as a sign of welcome and unity we would really like for all to come. Come along for an evening with friends and fellow parishioners.
Cathy Schneider & Marianne Forshaw
Parish secretaries
Our Lady of the Annunciation Parish
Weston Creek/South Molongo
87 Namatjira Drive
Waramanga ACT 2611
Phone: (02) 8331 7611
Email: westoncreek@cg.org.au
Weblog: https://stjjvwestoncreek.blogspot.com
WARAMUNCHIES Canteen is open Wednesday & Friday. Orders can be made online via Qkr! A copy of the Menu and Qkr! instructions can be found on the Canteen Waramuchies Webpage.
NEXT WEEKS CANTEEN ROSTER
Wednesday December 4
Canteen Volunteers Needed
Friday December 6
Carol Nolan
Christine Burrows

Please remember to bring your WWVP card with you.
Canteen Volunteers Needed
The canteen is in desperate need of some volunteers, in particular on Wednesday's for this term. We also need volunteers for Term 4.
If you can only spare a couple of hours, that would be fantastic. If you have little ones, they are very welcome to come along.
Please contact the front office or fill in the canteen volunteer form to let us know you are able to help and when.
Dates for Term 4
Thursday 28th November

GingerbreadHouse Making Evening 6.00pm-8.30pm

Friday 29th November

Volleyball Clinics
Kinder Excursion to Art Gallery and Theatre

Tuesday 3rd December

Mrs Thomas @ Best Start Professional Learning

Thursday 5th December

Writing Project Professional Learning

Friday 6th December

Volleyball Clinics
Parish Christmas BBQ
6pm @ SJV School

Tuesday 10th December

St Mary Mackillop Year 7 Orientation Day

Wednesday 11th December

Choir sing at BUPA 9.30-10.30
Writing Project Steering Committee Meeting

Thursday 12th December

Graduation Mass and Candle Ceremony
12.15-1.15pm

Friday 13th December

Semester 2 Awards 9.30-10.30
Reports sent home
1/2 Excursion to Hoyts "Playing with Fire"

Tuesday 17th December

Year 6 Fun Day - Big Splash 9.30am-2.30pm

Wednesday 18th December

Christmas T-Shirt Day
Thanksgiving Mass 9.30am-10.30am
2nd Rite of Reconciliation 7pm SJV Church

Thursday 19th December

Last day of Term 4 2019

Friday 20th December

Staff Christmas Party

Christmas Eve

6.00pm Vigil Mass
8.30pm Carols
9pm Mass St John Vianney's Church
No Midnight Mass

Christmas Day

8.30am Carols
9.00am Mass St Jude's Holder



Boxing Day

9.30 Mass St Jude's Holder

Monday 3rd February 2020

Term 1 2020 Resumes