Filter Content
2019 Term 4 Week 6
Dear Parents and Carers
Welcome to the end of Wk 6. This would normally be a short newsletter week from me but there are three important events that I would like to mention:
Working Bee
Please mark this on your calendar! The aim is to get as much ready for 2020 as is possible so please come along and lend a hand even if it is just for 1 hour. There will be childcare availble for children with their parents.
Parish Christmas BBQ - Claim the Date - 6th December
For the first time since the Parish amalgamated SJV will be hosting the Parish BBQ. This is a fun parish event and a way to support your parish. All meat, beer, wine and drinks are provided, you only need bring a salad or desert to share. We invite all families to come down to the school at 6pm and enjoy a great social get together.
This is an RSVP event and sign up sheets can be found in our Front Office area or at the back of both parish churches. Alternatively, email the front office with number of adults and children attending and if you will bring a salad or dessert. Further information can be found in the Parish tab of this newsletter. I hope to see everyone there.
Christmas Carols
These are scheduled for the 18th December and are always fun. A sausage sizzle will be provided by the SCC and you can bring along extra nibblies. Come and relax in the hall or possibly outside (TBC) with a picnic rug and good company. It is a great way to spend an hour and get in the festive spirit.
A big congratulations to the following students:
Please note - Merit Awards will be handed out at NEXT Friday's morning assembly.
| | |
| --- | --- |
| KA | Farrah van Duren |
| 1/2 B | Dimitri Taflaga |
| 1/2 JB | Alexandra Woods |
| 3/4 CA | Alex Maher |
| 3/4 P | Luca O'Halloran |
| 5/6 J | Carys Luck |
| 5/6 P | Rohahn Sayer |
| The Arts | Diane Sijo |
| Italian | Daniel Loughlin |
School Wide Positive Behaviours
This weeks focus for our SJV students is
Use materials or equipment
for their intended use
A Message from School Community Council Chair
It was fantastic to read in the Principal's message of last week's newsletter that there are passionate members of our school community wishing to nominate to join the SCC in 2020. It is never too late to put your name forward to Peter Rodda or myself if you'd like to nominate.
The SCC will hold their final meeting for this school year on Tuesday 3rd December.
Continued update from the SCC open meeting
As promised in the Week 4 Newsletter, I'd like to provide you with the remaining updates from ideas put forward by our school community at the SCC open meeting earlier this year:
A staff review on homework: Peter Rodda will present at the next SCC meeting on current homework practices, including how many children complete homework and the view on parental support for homework as a concept. This discussion was initially scheduled for a SCC meeting last term that unfortunately had to be cancelled.
Holding the fete every second year: Discussions by the SCC are ongoing, including consideration for suitable alternative fundraising events. The wider school community will be canvassed for input.
An office entrance sign to be erected on the building exterior: The SCC has started the process and the sign will hopefully be installed before the end of term.
Remove the old school sign: Completed.
A recycling program at the school: The recycling program is on its way to being embedded.
Parent/carer only event: A planned parent/carer disco was cancelled due to lack of interest amongst the school community. An event of this nature would provide an excellent opportunity for parents/carers to develop and enhance relationships and the SCC will therefore revisit this idea next year.
Canteen renovations/ Purchase dishwasher: Discussions by the SCC are ongoing and the quote for dishwasher installation is underway.
Upcoming School Community Events
25th November 10:15am – 1:00pm: Come and show support for the children of our choir as they perform at Parliament House.
28th November: Gingerbread House Making
1st December: Working Bee
6th December: Parish BBQ being held at SJV
18th December: Thank you BBQ and Christmas Carols
Christmas Eve Children & Family Mass

For many years the Christmas Eve vigil Mass at St John Vianney's has been a family-centred celebration of the birth of Jesus. A highlight is the re-enactment of the Nativity story, presented by the school children. Extended families and visitors have come to the Mass for its significance but also because the children are involved in this wonderful part of the life of the Church.
Father Michael invites parents and grandparents who would like to be part of this tradition to help to organise and rehearse the children for this year's Mass. There's a guide for how the re-enactment has been organised in past years, and room for any new ideas you may have after discussion with the parish office and Father Michael.
Without your support for your children this Mass just won't happen. If you'd like to become involved, please contact the school or the parish office 8331 7611
Cathy Schneider & Marianne Forshaw
The Parish Christmas Party, Friday 6 December 2019 commencing at 6pm in the grounds of St John Vianney School, Waramanga. ALL PARISHIONERS are invited to come along to what has proved to be a wonderful evening in past years. It is meant for the whole parish. This Christmas Party is also a special occasion for Fr Michael to thank, both in person and publicly, all parishioners for their generous involvement, support and work in the many areas of parish family life. If you would like to attend and haven't RSVP'd bring along a salad or dessert to share. There is always plenty to share. As our parish footprint has expanded and as a sign of welcome and unity we would really like for all to come. Come along for an evening with friends and fellow parishioners.
Cathy Schneider & Marianne Forshaw
Parish secretaries
Our Lady of the Annunciation Parish
Weston Creek/South Molongo
87 Namatjira Drive
Waramanga ACT 2611
Phone: (02) 8331 7611
Email: westoncreek@cg.org.au
Weblog: https://stjjvwestoncreek.blogspot.com
Thank you
We acknowledge Samantha Heath for having so much enthusiasm for life, learning and literacy and for running a welcoming and supportive library at SJV.
Community Champion Nomination Form
Our wonderful children enjoying the Thursday afternoon Touch Football Competition the K1 vs Year 2
Santa and Mrs Claus Raffle
We have two beautiful hand knitted Christmas decorations.
The Merry couple stand about 40cm high and would be a great decoration for the festive season or as a lovely gift for a family member.
Tickets are available at the front office for 50c each or 3 for a $1.
The raffle will be drawn in week 10 and all proceeds go towards Ayui Foundation
Yesterday we were fortunate enough to have some firemen visit us with their fire truck. Aidan's dad, Gareth was able to bring his team from the station to show us the ins and outs of a fire truck. We were even lucky enough to be able to spray the hose! The highlight was the siren as the firemen took off back to the station ready to combat fires, save cats from trees and rescue people from car accidents.
SJV Buddies – Last week our SJV Year 5 buddies came to visit us. These visits are incredibly beneficial to our ELC children as they start to make connections with their new school. It is great that they will have a familiar face to help guide them on their first day of primary school.
ELC Tea towels –

Thank you to the families who helped raise money through the ELC tea towels. We have purchased class sets of Hi-Viz vests to wear when we are off site on excursions or exploring our natural environments. ELC tea towels (misprinted with the primary school logo rather than the ELC logo) are available from the ELC for $5 each. These will make a great gift for Christmas!

Last Day of Term - The last day of Term 4 is Thursday 19 December. The ELC will be running one day of holiday care for current ELC children on Friday 20 December. Booking forms will be available at the ELC soon.
ELC Fees – As we are approaching the end of the year, prompt payment of fees would be appreciated. It is important that you check your account balance to ensure you are paying the correct amount.
Earn and Learn Stickers – Earlier this year we collected Earn and Learn stickers to support St Mary's school in Batlow. Last week they received their order which included many different Lego sets, musical instruments, literacy and maths resources and much more. (This photo is only a small portion of what was received). These resources will benefit St Mary's students and teachers. Thank you to all the families who supported this initiative.
All Library Books due in Week 8
With the end of the school year rapidly approaching, students and families are reminded that all library books need to be returned in week 8. This allows time to chase up overdue or missing loans and run a stock take of all books.
If you have any concerns about library loans, please contact me:
samantha.heath@cg.catholic.edu.au
Final Scholastic Book Club for the year - Issue 8
The last Scholastic Book Club of the year is going home at the end of this week, it has a fantastic selection of Christmas gift ideas! Please ensure you select the 'gift' option if you wish to be contacted to collect your order.
All book club orders need to be submitted by close of business, Monday 2nd December (week 8) to allow enough time for the books to arrive before the end of term. Please note, no late orders will be accepted.
Issue 8 can be found through this link:
https://www.scholastic.com.au/media/5384/bc819.pdf
Thank you very much to everyone who has purchased books through the Scholastic Book Club this year. Your purchases have raised enough points to buy over $500.00 worth of new books for the SJV Library. These new books are very popular as the students help select them from the catalogue.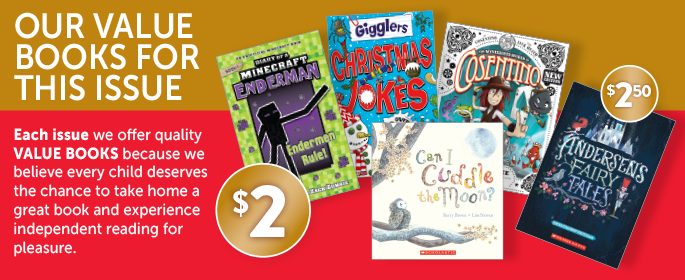 WARAMUNCHIES Canteen is open Wednesday & Friday. Orders can be made online via Qkr! A copy of the Menu and Qkr! instructions can be found on the Canteen Waramuchies Webpage.
NEXT WEEKS CANTEEN ROSTER
Wednesday November 27
Canteen Volunteers Needed
Friday November 29

Penny Bufalo
Penny Scholtens
Elizabeth Woods
Karen Wilder

Please remember to bring your WWVP card with you.
Canteen Volunteers Needed
The canteen is in desperate need of some volunteers, in particular on Wednesday's for this term. We also need volunteers for Term 4.
If you can only spare a couple of hours, that would be fantastic. If you have little ones, they are very welcome to come along.
Please contact the front office or fill in the canteen volunteer form to let us know you are able to help and when.
Dates for the following week
Friday 21st November

Volleyball Clinics
Executive Planning Day

Monday 25th November

Choir Excursion to Parliament House 10am-2pm

Tuesday 26th November

Writing Project School Visit

Wednesday 27th November

Principal Meeting


Mrs De Rosa @ Writing Project Steering Commitee Meeting



Thursday 28th November

GingerbreadHouse Making Evening 5.30pm-8pm

Friday 29th November

Volleyball Clinics

Kinder Excursion to Art Gallery and Theatre

Tuesday 3rd December

Mrs Thomas @ Best Start Professional Learning

Thursday 5th December

Writing Professional Learning

Friday 21st November

Volleyball Clinics


Parish Christmas BBQ 6pm
@ SJV School